Pressroom
2017 NBA Finals Programming Highlights
Tuesday, May 30, 2017

NBA TV to Provide Definitive Pregame & Postgame Studio Coverage Throughout
2017 NBA Finals, Highlighted By 90-Minute Live At The Finals
Network's Studio Programming to Feature Integration with TNT's Inside the NBA
Analysts Charles Barkley, Kenny Smith and Shaquille O'Neal Along with
Kevin McHale, Isiah Thomas, Chris Webber and Grant Hill
NBA TV is the ultimate destination for fans seeking the most in-depth highlights, news and analysis throughout the 2017 NBA Finals including 90-minute Live At The Finals pre-game shows, nightly post-game coverage and a full slate of original programming. The network will provide blanket coverage throughout the historic matchup between the defending champion Cleveland Cavaliers and the Golden State Warriors, the third consecutive time the two teams will meet in The Finals.  NBA TV's signature NBA GameTime studio show will also offer complete, live coverage on non-game days from both game sites throughout the series.
On-site studio coverage will once again feature a marquee lineup of commentators including integration with TNT's Inside the NBA analysts Charles Barkley, Kenny Smith and Shaquille O'Neal, pairing at times with Kevin McHale, Isiah Thomas, Chris Webber, Grant Hill, Steve Smith, Dennis Scott and Brent Barry.  NBA TV will have two sets on site from both venues, one from inside the arena (hosted by Matt Winer) and from an outdoor location, hosted by Casey Stern, Jared Greenberg or Vince Cellini. Kristen Ledlow (Cavaliers) and David Aldridge (Warriors) will report throughout the series.
NBA TV's Live At The Finals analyst schedule:
Games 1 & 2 - Kenny Smith, Grant Hill and Isiah Thomas
Games 3 & 4 - Charles Barkley, Shaquille O'Neal and Chris Webber
Game 5 (if nec.) - Hill, Brent Barry and Steve Smith
Game 6 (if nec.) - Hill, Smith and Kevin McHale
Game 7 (if nec.) - Hill, McHale and Thomas
The Starters will have an on-site presence throughout The Finals with new episodes airing Monday-Friday at 6:30 p.m. ET. Trey Kerby (Games 1, 2 and 6) and Leigh Ellis (Games 3, 4, 5 and 7) will provide the latest insight and commentary from each of those respective games. NBA Finals-focused episodes of NBA Inside Stuff, hosted by Hill and Ledlow, will premiere each Saturday in June at 6:30 p.m.
NBA Digital will provide comprehensive, multiplatform coverage of The Finals, giving fans access to the latest news, video highlights and social media integration via NBA.com, the league's signature NBA App and originally produced content across NBA TV's social media handles.
Additional NBA TV original programming and cross-platform content highlights for The Finals will include:
Defining Moments - Monday, June 5, at 8 p.m. ET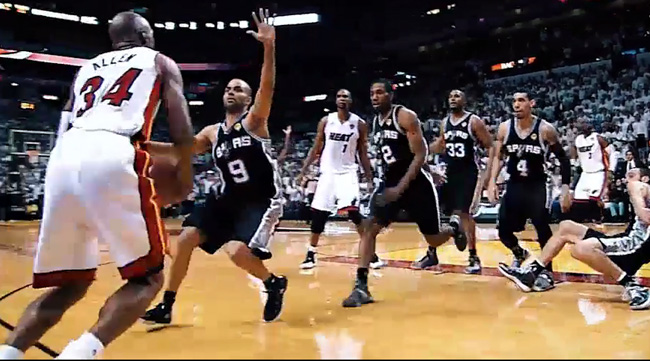 | | |
| --- | --- |
| • | NBA TV will debut Defining Moments – a special one-hour show that will go in-depth with three features capturing the very essence of the NBA Finals – on Monday, June 5, at 8 p.m. |
| • | NBA Finals-related segments will include Ray Allen's series-turning three-pointer in Game 6 of the 2013 Finals for Miami vs. San Antonio, LeBron James' 10-year run beginning with his first NBA Finals appearance in 2007 and the 20th anniversary of the back-to-back Western Conference Champion Utah Jazz. |
| • | Allen and Heat fan and Game 6 attendee Jimmy Buffet, Hall of Famers Karl Malone and John Stockton and former Jazz Head Coach Jerry Sloan share their thoughts and reflections within the pieces. James and Dwyane Wade are also heard from through archived interviews. |
| • | Segments are narrated by Jared Greenberg (Allen), Sekou Smith (James) and Casey Stern (Jazz). |
NBA Finals Film Room - Each night following NBA Finals games at 9 p.m. ET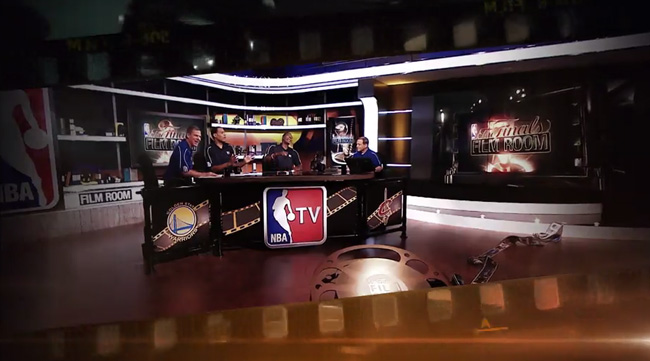 | | |
| --- | --- |
| • | NBA Finals Film Room, featuring former coaches and players breaking down in-game strategies, play calls, trends and game action in real time as they watch every game, will return for the third straight NBA Finals. |
| • | The two-hour episodes will premiere at 9 p.m. ET on the day following each Finals game. |
| • | NBA coaching veteran and TNT analyst Mike Fratello, 11-year NBA veteran and TNT analyst Greg Anthony will join host Rick Kamla to analyze each game. |
| • | Former NBA head coach Sam Mitchell will join for Games 1, 2 and 5. |
Open Court – Premiere Episodes on Wednesday, May 31 & June 14, at 8 p.m. ET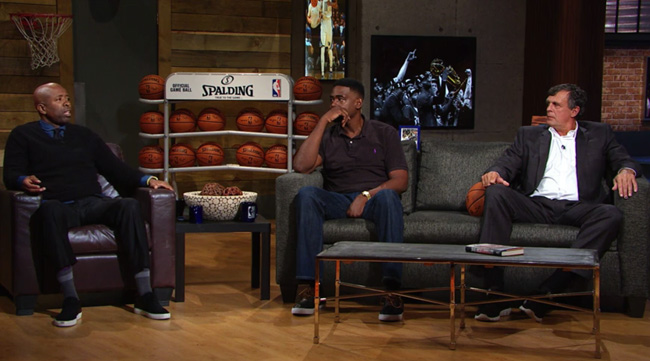 | | |
| --- | --- |
| • | The network's critically acclaimed Open Court series returns with its final two episodes of the season: "Best Teams Without a Title" premiering tomorrow, Wednesday, May 31, at 8 p.m. and "Basketball 201" debuting Wednesday, June 14, at 8 p.m. |
| • | "Best Teams Without a Title" will feature a roundtable hosted by Ernie Johnson with Webber, McHale, Kenny Smith, Derek Fisher, Greg Anthony, Steve Smith and Scott to discuss the league's most memorable and complete teams that fell shy of winning the NBA Championship. |
| • | "Basketball 201" will serve as a continuation of last February's "Basketball 101" episode, and will feature a cast of greats on the court breaking down the nuances of the game through their unique vantage points. Brent Barry hosts and Kenny Smith, Webber, McHale, Thomas, Hill, Fisher and Scott will be featured. |
Shaqtin' A Fool - Season Finale Part 2 on Tuesday, June 13, at 8 p.m.
•
The Shaqtin' A Fool presented by Hotels.com 2016-2017 Season Finale Part 2 will include the unveiling of this season's Shaqtin' MVP and count down the rest of the Top 50 Shaqtin' plays - number 25-1 - from the NBA season.
•
This season's Shaqtin' MVP finalists – Dwight Howard, Zaza Pachulia, Marcus Smart & Russell Westbrook – were announced during last month's Season Finale Part 1 and voted on by fans on social media.
•
Hall of Famer O'Neal will be joined by Dennis Scott, Ro Parrish and special guest Tony Rock for the season finale.
Social Media, NBA App & NBA.com
•
Twitter and Facebook: New episodes of The Warmup, featuring Parrish, Ben Lyons and Rock will air on NBA TV's Twitter handle leading into Games 1-4 regularly at 7:30 p.m., with Game 2's episode airing at 6:30 p.m. The network's Facebook page will exclusively showcase the Taco Bell Pre-Game Live before Games 1 and 3, at 6 p.m., hosted by Kerby and Ellis, respectively.
•
Instagram and Snapchat: Original content featured on the Instagram and Snapchat platforms will include behind-the-scenes access with NBA TV talent, media availabilities, player arrivals and warmups. A new Instagram story franchise - Courtside Certified - will highlight player and celebrity fashion at the games.
•
NBA App sponsored by Gatorade: During The Finals, users can follow all the action through the NBA App available on iOS and Android. The NBA App will provide live scoring, game alerts, live news conferences, postgame analysis and more.
•
Finals Hub: NBA.com will produce a series hub to serve as the home for all 2017 NBA Finals content.  The page – available via NBA.com and the NBA App – will be comprised of highlights, video, box scores, series stats, game stories and analysis.
•
Live Streaming News Conferences presented by Cisco: NBA.com and the NBA App will present live streaming video for every postgame news conference as well as live off-day news conferences during The Finals.
•
Top Finals Moments presented by Harman: Featured on NBA.com and the NBA App, fans can relive some of the top moments in NBA Finals history with a look back at some truly memorable plays spanning more than 50 years.  Each of these historic video vignettes will highlight commentary from former players as well as NBA TV studio talent.