Pressroom
ELEAGUE CS:GO Premier 2017 Live Group C Coverage Begins Friday, Sept. 22
Wednesday, September 20, 2017

Wednesday, Sept. 20, 2017
ELEAGUE CS:GO Premier 2017 Live Group C Coverage to Showcase Fan Favorites Virtus.pro & Ninjas in Pyjamas Beginning Friday, Sept. 22, at 10 p.m. ET on TBS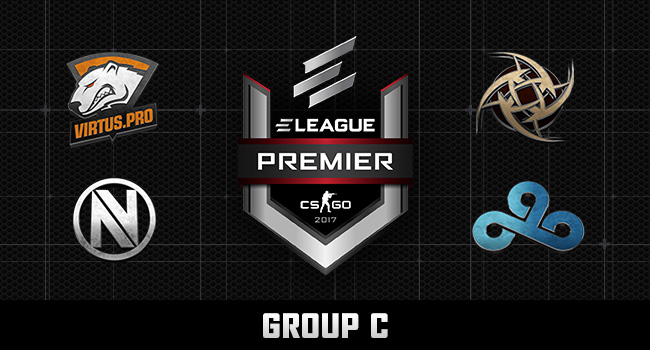 This Week's Top Storylines
•LIVE TBS SHOWCASE:  Turner and IMG's ELEAGUE CS:GO Premier 2017 will present the Group C showcase with live coverage beginning Friday, Sept. 22, at 10 p.m. ET on TBS. Four teams – Virtus.pro, Ninjas in Pyjamas, Cloud9 and EnVyUs – will compete for two of the four remaining playoff spots and a larger share of the $1 million prize pool.

•LIVE DIGITAL COVERAGE: Live digital coverage will begin Friday at 6 p.m. across Twitch, ELEAGUE.com and YouTube in addition to the Friday night showcase. Live match coverage will continue Saturday, Sept. 23, at 2 p.m. across those digital platforms.

•VETERANS RETURN: Group C will showcase ELEAGUE Season 01 Champions and ELEAGUE Major runners-up Virtus.pro, the longest-standing roster in professional CS:GO competition.
•A NEW ERA: Past Major champions Ninjas in Pyjamas will look to re-capture their position among the world's elite after adding Fredrik "REZ" Sterner. NiP's former lineup still holds the record for the most consecutive LAN wins (87).

 
"The pressure is on for NiP. The burden of proof is on them to show that there's more to their recent success – that it's not just been a fluke honeymoon period."
– Daniel "DDK" Kapadia
ELEAGUE Commentator

 
Featured ELEAGUE Videos
 
 
Group A Recap
Group B Eye Tracking
Richard Gets Inappropriate
FaZe Clan and G2 Esports claimed Group A's No. 1 and No. 2 seeds respectively –  catch up on how they advanced in the video linked above.
See how ELEAGUE has integrated technology from Dell Gaming and Tobii to track the eye movements of Fnatic's Jesper "JW" Wecksell during Group B.
ELEAGUE host Richard Lewis follows Renegades star player Aaron "AZR" Ward just a bit too closely in this edition of Inappropriate Casting.
Media Contacts:
Jake Moskowitz, Turner Sports, at (404) 575-6765 or jake.moskowitz@turner.com
Mike Scanlan, IMG, at (386) 843-0188 or mike.scanlan@img.com
Visit the Turner Sports online press room for additional press materials

  Email: turnersportspr@turner.com
  Twitter: @TurnerSportsPR
  Facebook: ELEAGUE