Pressroom
Astralis Defeats Virtus.pro in ELEAGUE Clash for Cash: The Rematch, Takes Home $250,000 Purse
Friday, June 16, 2017
Astralis Defeats Virtus.pro in
 ELEAGUE Clash for Cash: The Rematch,
Takes Home $250,000 Purse

Friday, June 16, 2017
ELEAGUE hosted its first-ever Clash for Cash: The Rematch, with Astralis defeating Virtus.pro 7-16, 16-4, 16-3, in a meeting of finalists from January's historic ELEAGUE Major. Astralis won the $250,000 prize live on TBS from the G FUEL ELEAGUE Arena in Atlanta.
Click on the following image for a video of the winning moment and the lower image for a photo gallery from The Rematch. More videos featuring the teams and players are available at video.eleague.com.
"It was amazing to get that feeling and play well as a team, and individually, in this win." - Astralis captain Lukas 'gla1ve' Rossander on his team's synergy

"What a statement [win]. Tactically, [Astralis] just dominated their opponents for each of the final two maps." - ELEAGUE shoutcaster Jason "Moses" O'Toole on Astralis' winning strategy

"It's one of the most storied rivalries we have in Counter-Strike, and we've just added another epic chapter." - ELEAGUE shoutaster Anders Blume on the Astralis-Virtus.pro rivalry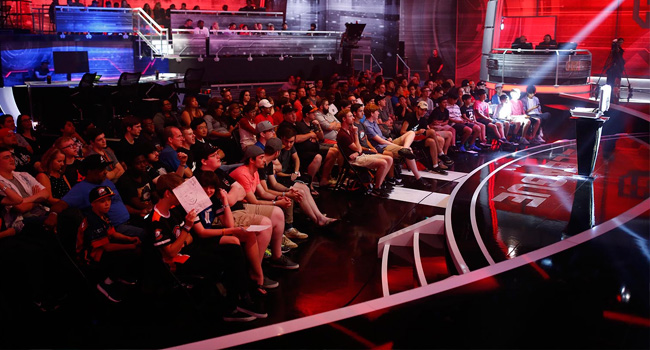 About ELEAGUE
ELEAGUE is the premium esports tournament brand formed in partnership between Turner and IMG that officially launched in 2016. A leader in the delivery of live event experiences, ELEAGUE content is widely distributed across leading digital platform Twitch, along with showcase programming airing on Turner's TBS, a fully-distributed cable television network. In its first year, ELEAGUE produced two seasons featuring Counter-Strike: Global Offensive, along with the first-ever Overwatch® Open. As recognition of its industry-wide impact, ELEAGUE was awarded its first-ever CS:GO Major, originating from Atlanta in January 2017. The ELEAGUE Major Grand Final drove ELEAGUE's Twitch channel to a record peak of more than one million concurrent streams, in addition to a reach of 3.6 million total viewers on TBS throughout the tournament. ELEAGUE received a Sports Emmy® nomination for Outstanding Studio Design and Art Direction in March 2017.

ELEAGUE's upcoming schedule will feature a full-season CS:GO tournament – The ELEAGUE CS:GO Premier 2017, beginning on Friday, September 1 – before it returns to the FGC in October for the first-ever ELEAGUE Injustice 2 World Championship.
Visit the Turner Sports online press room for additional press materials

  Email: turnersportspr@turner.com
  Twitter: @TurnerSportsPR
  Facebook: ELeagueTV