ELEAGUE Last Chance Qualifier to Feature Renegades, G2 Esports, CLG, FaZe, FlipSid3, Gambit, mousesports & Virtus Pro Competing for Final Playoff Positions
Wednesday, July 6, 2016
Last Chance Qualifier Round to Begin Wednesday, July 13, at 2 p.m. ET on Twitch;
TBS to Present Live Friday Night Showcase, July 15, at 10 p.m.
ELEAGUE, the professional eSports organization created by Turner and WME | IMG, has unveiled the Last Chance Qualifier brackets with action set to begin Wednesday, July 13, at 2 p.m. ET on Twitch.  Renegades, G2 Esports, CLG, FaZe, FlipSid3, Gambit, mousesports and Virtus Pro will compete for the final two spots of the ELEAGUE Playoff round featuring Valve's popular Counter-Strike Global Offensive. 
In addition to Wednesday's coverage, the Last Chance Qualifier will continue with competition taking place Thursday, July 14, at 2 p.m. and Friday, July 15, at 5 p.m. (also available on Twitch).  Friday night's primetime action will be featured on TBS beginning at 10 p.m., with live event coverage also available via Twitch.
ELEAGUE Last Chance Qualifier Bracket: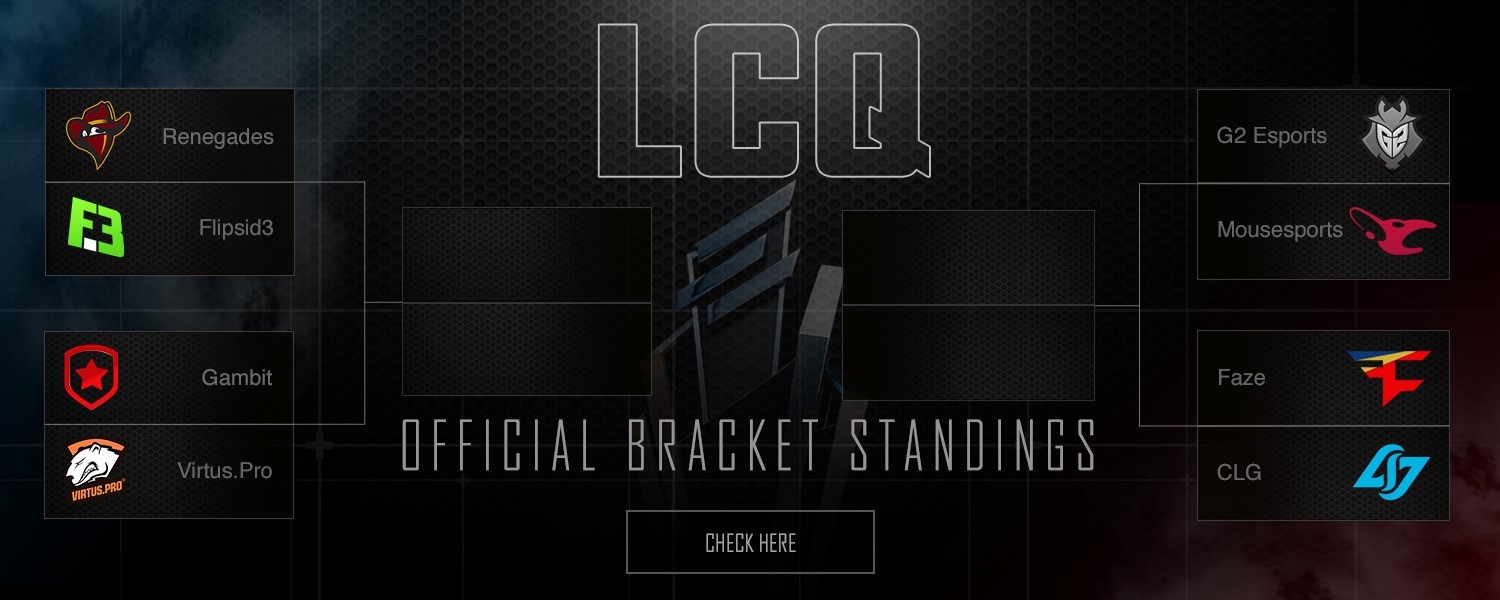 ELEAGUE Quarterfinals
The top two teams will advance to the ELEAGUE Playoffs, beginning with Quarterfinal play held Thursday, July 21, at 2 p.m. on Twitch; Friday, July 22, at 5 p.m. via Twitch; along with the primetime presentation at 10 p.m. on TBS and Twitch.
ELEAGUE Semifinals & Championship
ELEAGUE will host the semifinals and championship for its inaugural season at Cobb Energy Performing Arts Centre in Atlanta. The first semifinal will take place Friday, July 29, at 5 p.m. via Twitch, followed by the second semifinal at 10 p.m. on TBS.  The season one championship will be held Saturday, July 30, at 4 p.m. on TBS with the top two CS:GO teams facing off in a best-of-three series. Coverage of the Friday night and Saturday coverage will also be available via Twitch.
Tickets for the full weekend of matches are available now via Ticketmaster.com; additional details can also be found through http://www.e-league.com/finals/.
For the latest ELEAGUE updates, visit http://www.e-league.com or follow ELEAGUE on Facebook (facebook.com/eleaguegaming) and Twitter (@EL).
About Turner
TBS, TNT and truTV are part of Turner, a Time Warner company.  Turner creates and programs branded news; entertainment; kids and young adult; and sports media environments on television and other platforms for consumers around the world.                 
About WME | IMG
WME | IMG is a global leader in entertainment, sports and fashion. Operating in more than 30 countries, the company specializes in talent representation and management; brand strategy, activation and licensing; media production, sales and distribution; and event management.