Pressroom
MLB on TBS Weekly Live Game Coverage Returns Sunday, July 8
Wednesday, June 27, 2018

UPCOMING GAME COVERAGE
Wednesday, June 27, 2018
MLB on TBS weekly regular season Sunday game coverage will return for the remainder of the 2018 season on July 8, featuring a matchup featuring two National League division leaders – the NL East-leading Atlanta Braves and Ozzie Albies vs. the NL Central-leading Milwaukee Brewers and Christian Yelich – at 2 p.m. ET. Ernie Johnson (play-by-play) will be joined by analyst Ron Darling to call the Braves/Brewers telecast, which will not be available locally in Atlanta.
TBS will showcase a full national telecast between current American League division leaders the following weekend, when the New York Yankees and 2017 American League Rookie of the Year Aaron Judge visit the Cleveland Indians and two-time All-Star Francisco Lindor on Sunday, July 15, at 1 p.m.  Brian Anderson and Darling will call Yankees/Indians.
The network's upcoming live game schedule and telecast notes follow.
LIVE GAMES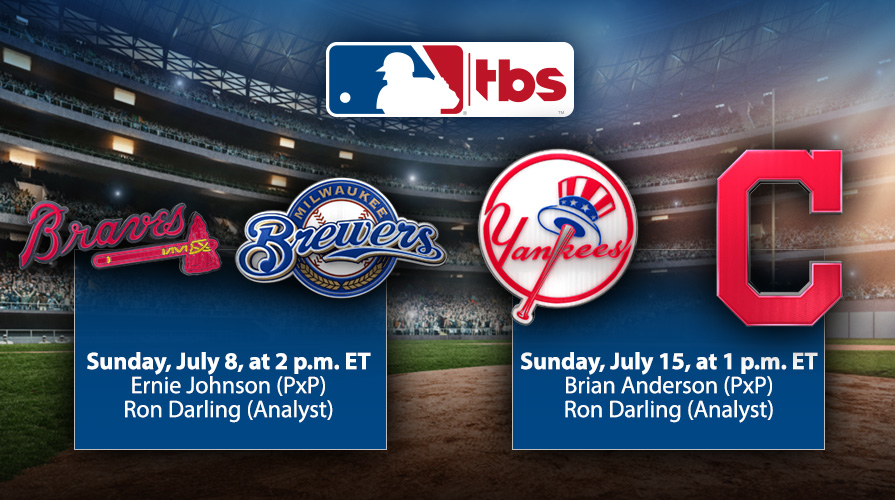 ADDITIONAL NOTES
•
Sunday, July 22, at 2 p.m. ET – St. Louis Cardinals vs. Chicago Cubs
Johnson & Darling
•
Sunday, July 29, at 1:30 p.m. ET – Los Angeles Dodgers vs. Atlanta Braves
Anderson & Darling
*Telecast not available locally in Los Angeles
•
TBS will nationally showcase one Sunday afternoon game through the remainder of the 2018 MLB regular season
•
The network will be the exclusive home of the 2018 American League Postseason, from the Wild Card through the American League Championship Series
Visit the Turner Sports online press room for additional press materials
  Media Contact: Jay Moskowitz, Turner Sports PR

  Twitter: @TurnerSportsPR

  Facebook: MLB from B/R