Pressroom
NBA TV's MLK Jr. Day Lineup to Feature Charlotte Hornets at Detroit Pistons, Monday, Jan. 15, at 12:30 p.m. ET & San Antonio Spurs at Atlanta Hawks at 3 p.m.
Wednesday, January 10, 2018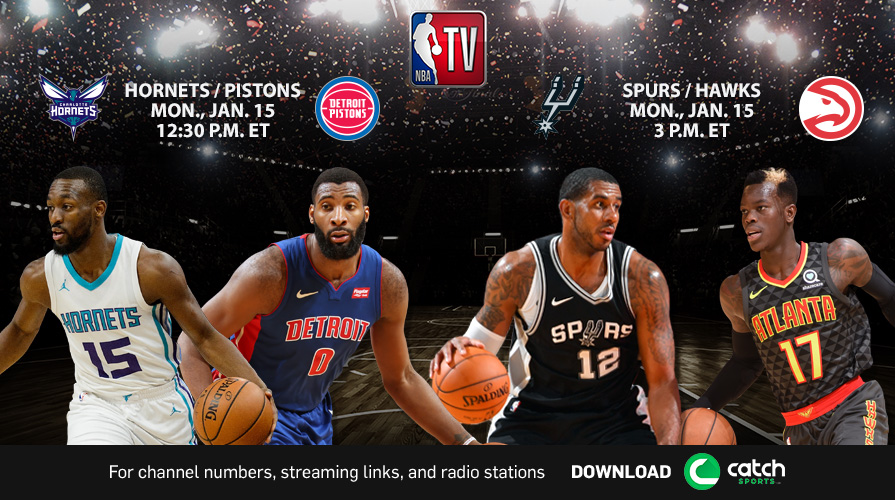 NBA TV will feature a pair of live game telecasts on Martin Luther King Jr. Day, starting with Kemba Walker and the Charlotte Hornets visiting Andre Drummond and the Detroit Pistons, on Monday, January 15, at 12:30 p.m. ET. The network's coverage will continue with Dennis Schroder and the Atlanta Hawks hosting LaMarcus Aldridge and the San Antonio Spurs at 3 p.m.
The network's pregame coverage will begin at noon and include a special sit-down interview with Dr. Bernice A. King and Ambassador Attallah Shabazz, the daughters of civil rights pioneers Martin Luther King, Jr. and Malcolm X, conducted by Isiah Thomas.
NBA TV's final Players Only of the season will feature Anthony Davis and the New Orleans Pelicans visiting Kyrie Irving and the Boston Celtics on Tuesday, January 16, at 7:30 p.m. The night's action will conclude with C.J. McCollum and the Portland Trail Blazers hosting the Phoenix Suns and Devin Booker at 10 p.m. The network's signature "Game of the Week" will transition to a Fast Break Mondays Presented by Verizon series beginning on Monday, Jan. 22. Additional details on the all-new series will be announced at a later date.
NBA TV will televise Jayson Tatum and the Boston Celtics vs. Ben Simmons and the Philadelphia 76ers on Thursday, Jan. 11, at 3 p.m., from The O2 Arena in London. Tas Melas will report from London across the network's programming, including The Starters and NBA GameTime, in association with the game.
PROGRAMMING NOTES
Beyond the Paint, hosted by Matt Winer, will return on Wednesday, Jan. 17, at 11 p.m. The show will include the Los Angeles Lakers' Larry Nance, Jr. on playing with Crohn's disease with Kristen Ledlow. Further, Sekou Smith takes a look at former NBA player and coach Avery Johnson's success as coach at the University of Alabama. Winer will spotlight how Shareef O'Neal – committed to the University of Arizona – is following in his father Shaquille O'Neal's footsteps playing basketball.
NBA Inside Stuff will continue with an all-new episode, Saturday, Jan. 13, at 6:30 p.m. In this week's show, NBA stars – including Cleveland's Isaiah Thomas, Boston's Kyrie Irving, Toronto's Kyle Lowry, Indiana's Myles Turner, Memphis' Marc Gasol and Sacramento's Vince Carter, reflect on the legacy of Martin Luther King, Jr. Additionally, Dallas' Dirk Nowitzki and New York's Kristaps Porzingis discuss where they are in their careers, while the Celtics and Sixers look forward to their game in London.
NBA TV will televise six live games from the NBA G League Showcase, starting today, Wednesday, Jan. 10, with the Santa Cruz Warriors vs. Grand Rapids Drive at noon, followed by Austin Spurs vs. Windy City Bulls at 2:30 p.m.
A new series – What If – will continue on Thursday, Jan. 11, during NBA GameTime at 7:30 p.m. The next vignette will examine how the futures of Kobe Bryant and the Brooklyn Nets would have been effected if the team drafted the eventual five-time NBA champion. What If featurettes are also available via NBA.com and social media.
FEATURED VIDEO
Click here to view the latest edition of What If featuring a look into how the NBA might be different if Gregg Popovich were fired in 1999.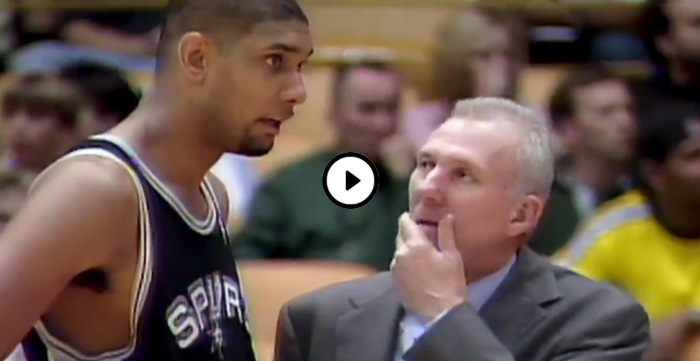 -30-