Pressroom
NBA TV to Televise Five Thanksgiving Week Games Including the Golden State Warriors & Cleveland Cavaliers in Action, Friday, Nov. 24
Thursday, November 16, 2017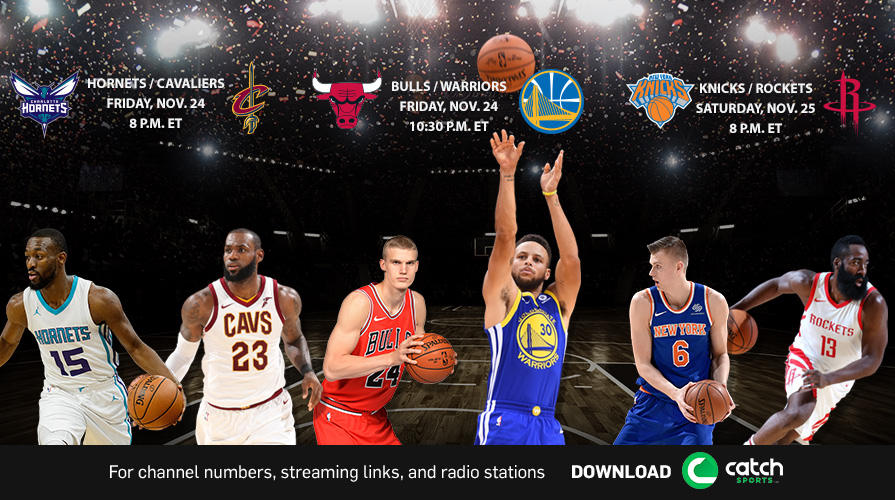 NBA TV's upcoming schedule will be highlighted by five live games during the week of Thanksgiving including a doubleheader featuring appearances by the Cleveland Cavaliers and Golden State Warriors on Friday, Nov. 24, with live pregame coverage beginning at 7:30 p.m. ET. The night will tip off with the Cavaliers and four-time Kia NBA MVP LeBron James facing the Charlotte Hornets and All-Star Kemba Walker at 8 p.m., followed by the Warriors with two-time Kia NBA MVP Stephen Curry hosting the Chicago Bulls and first-round draft pick Lauri Markkanen at 10:30 p.m. Live game action will continue Saturday, Nov. 25, when the up-and-coming New York Knicks and Kristaps Porzingis visit the Houston Rockets and James Harden at 8 p.m.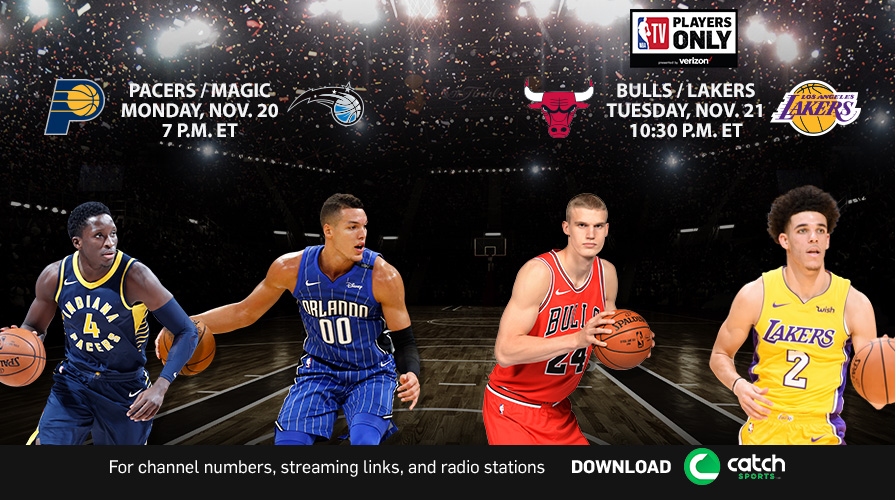 Players Only, the innovative franchise with former NBA players in all commentary roles, will feature the Los Angeles Lakers and the network's second showcase of Lonzo Ball's rookie campaign against the Bulls and Robin Lopez, Tuesday, Nov. 21, at 10:30 p.m. Live Players Only coverage will tip off at 10 p.m. with the Autotrader Pregame, featuring studio analysis from Chris Webber, Kevin McHale and Isiah Thomas, with game commentary from Greg Anthony, Steve Smith and Dennis Scott. The week's live game schedule will begin Monday, Nov. 20, with a matchup of young stars as the Indiana Pacers and Victor Oladipo take on the Orlando Magic with Aaron Gordon at 7 p.m.
Programming Notes
• NBA TV will debut Three Point Revolution presented by JBL, an all-new five-part miniseries, during NBA GameTime, Monday, Nov. 20, at 10:30 p.m. The series, hosted by Casey Stern, will examine the growth of the three-point shot throughout the game's history, including exclusive interviews with the players and coaches who have made it famous. The first edition will cover the shot's introduction and the scrutiny it initially faced, with subsequent vignettes airing weekly each of the next five Mondays during GameTime. Three Point Revolution featurettes will also be made available via NBA.com and social media after they air on NBA TV.
• NBA Inside Stuff, co-hosted by Kristen Ledlow and Grant Hill, will return with a new episode Saturday, Nov. 18, at 6:30 p.m., featuring the Milwaukee Bucks' Giannis Antetokounmpo sitting down with Ledlow to discuss his dominant start to the season. The star-studded episode will also highlight the Thunder's Carmelo Anthony, the Hornets' Walker and the Magic's Gordon, bringing fans closer to these standout players both on and off the court.
• NBA TV's The Starters, the daily 30-minute studio show that recaps the most entertaining moments from around the NBA, is co-hosted by J.E. Skeets and Tas Melas, along with Trey Kerby and Leigh Ellis. Earlier this week, the show featured Shea Serrano, New York Times #1 bestselling author of "Basketball (And Other Things)" and NBA writer, as a studio guest [click here to view video]. New episodes will continue Monday-Friday, regularly at 7 p.m. The Starters Twitter Show will continue with new live episodes streaming Tuesdays at 11 a.m.
• NBA CrunchTime, which provides live whip-around game coverage for fans, will cover the endings of five live games, Friday, Nov. 17, at 9 p.m. The show will continue to offer live look-ins at the critical moments from each game on the air, allowing viewers to enjoy up-to-the-minute highlights within one show. NBA CrunchTime will air regularly on Wednesdays (including Wednesday, Nov. 22, at 9 p.m.) and Fridays at 9 p.m. throughout the season.
• The network's half-hour 10 Before Tip studio show will continue to offer news, notes and the latest updates for what fans need to know leading up to the night's first game. Hosted by Jared Greenberg, the show will include guests from around the league, including reporters, on-air personalities and fantasy experts, airing regularly at 6:30 p.m. on weekdays.
Featured Video
Click this link to view the below preview of this week's Inside Stuff, including an interview with Antetokounmpo.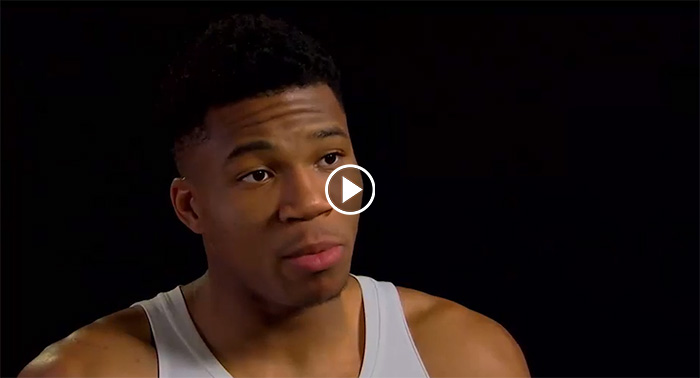 -30-