Shaquille O'Neal, Jimmy Rollins, Baron Davis & Natalie Eva Marie Compete in ELEAGUE Street Fighter® V Invitational 2018 Celebrity Showdown, Friday, June 29, at 11 p.m. ET/PT on TBS
Thursday, June 28, 2018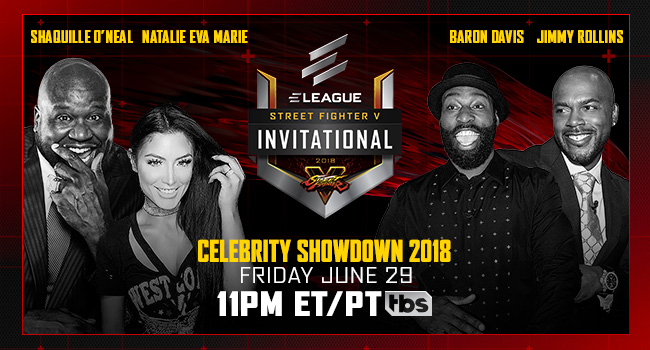 Street Fighter® V: Arcade Edition Charity Tournament Features Anticipated O'Neal vs. Marie Rematch
Turner and IMG's second annual ELEAGUE Street Fighter® V Invitational 2018 Celebrity Showdown will feature basketball Hall of Famer Shaquille O'Neal, World Series Champion Jimmy Rollins, 13-year NBA veteran Baron Davis and former professional wrestler Natalie Eva Marie in a Street Fighter V: Arcade Edition charity tournament televised on TBS, tomorrow, Friday, June 29, at 11 p.m. ET/PT.
During the inaugural Showdown, O'Neal pulled off a "controversial" upset victory over avid Street Fighter® player Marie [video], setting up this year's anticipated rematch.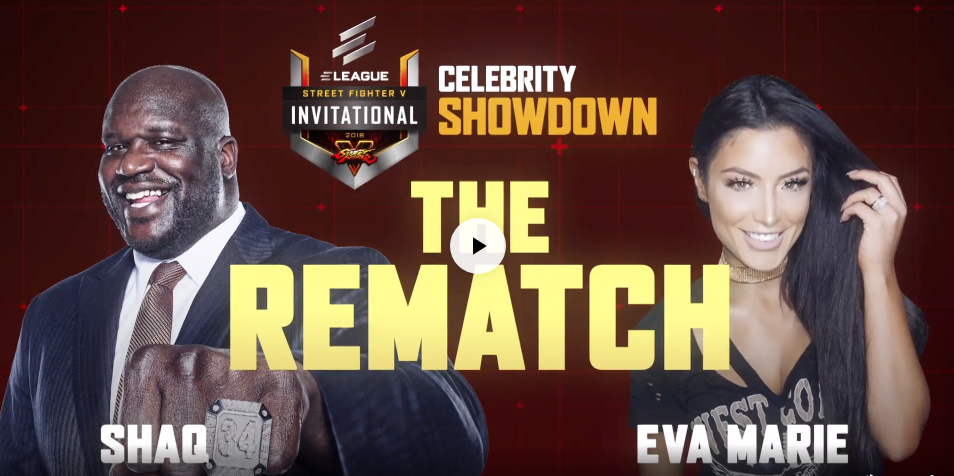 The celebrities are competing to raise money for the charities of their choice with O'Neal supporting the Odessa Chambliss Quality of Life Fund, Rollins playing for The Jimmy Rollins Family Foundation, Davis on behalf of The Drew League and Marie for A21.
Tournament Format
The single-elimination tournament consists of two first-round matches and a winner's match (three matches total). The champion earns a majority of the prize money for their charity, with all other participants receiving a portion for their charities as well.
ELEAGUE Street Fighter® V Invitational analysts Steve "Tasty Steve" Scott, Zhi "Zhieeep" Liang Chew, Stephen "Sajam" Lyon and Reepal "Rip" Parbhoo serve as game coaches for the celebrities, with Josh Gray as the emcee.
About ELEAGUE
ELEAGUE – formed in partnership between Turner and IMG – is a premium esports content and live tournament brand that has aligned with some of the most popular esports titles in the business through its first two years: Counter-Strike: Global Offensive – including having hosted two Major Championships – Overwatch®, Street Fighter® V: Arcade Edition, Dota 2, Injustice 2, Rocket League, Formula E and TEKKEN® 7. With a focus on innovative production capabilities, storytelling and exploring compelling narratives surrounding star teams and players, ELEAGUE has generated record levels of engagement with its content and positive reaction throughout the esports community since its launch in 2016.
Street Fighter is a registered trademark of Capcom U.S.A., Inc. All other marks are property of their respective owners.
About Capcom
Capcom is a leading worldwide developer, publisher and distributor of interactive entertainment for game consoles, PCs, handheld and wireless devices.  Founded in 1983, the company has created hundreds of games including ground-breaking franchises Resident Evil®, Street Fighter®, Monster Hunter™, Ace Attorney®, Mega Man® and Devil May Cry®. Capcom maintains operations in the U.S., Canada, U.K., France, Germany, Tokyo, Taiwan, Hong Kong and Korea, with corporate headquarters located in Osaka, Japan.  More information about Capcom and its products can be found at www.capcom.com or www.capcom-unity.com.
-30-