ELEAGUE CS:GO Premier 2017 to Showcase World No. 1 Team SK Gaming & ELEAGUE Major Champions Astralis in Live Group D Coverage Beginning Friday, Sept. 29, at 10 p.m. ET on TBS
Wednesday, September 27, 2017

Wednesday, Sept. 27, 2017
ELEAGUE CS:GO Premier 2017 to Showcase World No. 1 Team SK Gaming & ELEAGUE Major Champions Astralis in Live Group D Coverage Beginning Friday, Sept. 29, at 10 p.m. ET on TBS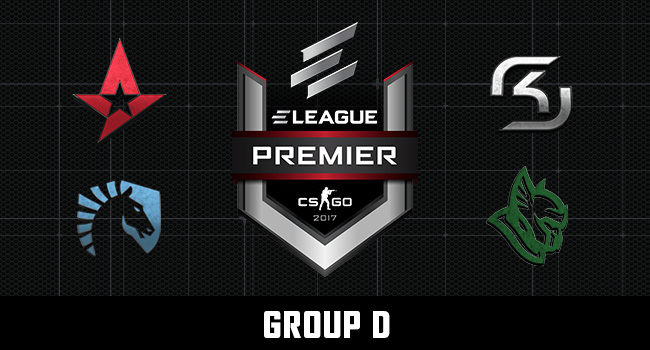 This Week's Top Storylines
•LIVE TBS SHOWCASE:  Turner and IMG's ELEAGUE CS:GO Premier 2017 will present live coverage of the Group D showcase beginning Friday, Sept. 29, at 10 p.m. ET on TBS. The Premier's final group stage competition will see the top-ranked CS:GO team SK Gaming, ELEAGUE Major and Clash for Cash: The Rematch Champions Astralis, popular North American contender Team Liquid and qualifying hopefuls Heroic, contending for the final two remaining playoff spots and a larger share of the event's $1 million prize pool.

•LIVE DIGITAL COVERAGE: Live digital coverage will begin Friday, Sept. 29 at 6 p.m. across Twitch, ELEAGUE.com and YouTube in addition to the Friday night showcase. Live match coverage will continue Saturday, Sept. 29, at 2 p.m. across those digital platforms.

•PATH OF DOMINANCE: At the centerpiece of Group D will be the world's top-ranked Counter-Strike team SK Gaming, led by Gabriel "FalleN" Toledo. SK Gaming will look to secure a playoff berth at ELEAGUE and build on their recent top-five finish at ESL One New York.
•HOMETOWN HEROES: Representing North America in Group D will be Team Liquid and 20-year-old prodigy Jonathan "ELiGE" Jabolonowski. Liquid has shown momentum of late, reaching the finals in New York before falling to FaZe Clan.

 
"[SK Gaming is] certainly playing like the best team in the world right now."
– Richard Lewis
ELEAGUE Host

 
Featured ELEAGUE Videos
 
 
Group B Recap
Eye Tracking: Autimatic
Group C X-Factor: Happy
Group B saw Team North and FNATIC advance to the playoffs –  see how they took on the group stage in the video linked above.
Gain a deeper understanding of Cloud9's dominant Group C showing by observing the in-game eye movements of Timothy "Autimatic" Ta.
French squad Team EnVyUs advanced to the Playoffs from Group C, thanks in large part to the contributions of Vincent "Happy" Schopenhauer.
Media Contacts:
Jake Moskowitz, Turner Sports, at (404) 575-6765 or jake.moskowitz@turner.com
Mike Scanlan, IMG, at (386) 843-0188 or mike.scanlan@img.com
Visit the Turner Sports online press room for additional press materials

  Email: turnersportspr@turner.com
  Twitter: @TurnerSportsPR
  Facebook: ELEAGUE TV