ELEAGUE Injustice 2 World Championship to Showcase Game's Best Players Competing with Iconic DC Universe Characters, Live, Friday, Oct. 27, at 10 p.m. ET on TBS
Wednesday, October 18, 2017

Wednesday, Oct. 18, 2017
ELEAGUE Injustice 2 World Championship to Showcase Game's Best Players Competing with Iconic DC Universe Characters, Live, Friday, Oct. 27, at 10 p.m. ET on TBS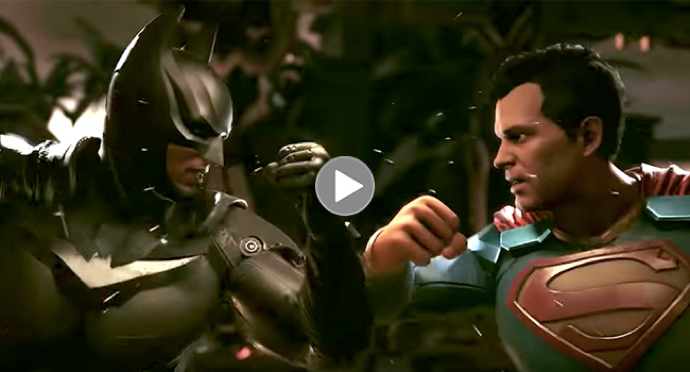 Tournament Schedule
Turner and IMG's ELEAGUE, in partnership with Warner Bros. Interactive Entertainment, will offer fans the first-ever ELEAGUE Injustice 2 World Championship presented by PS4. The event, featuring NetherRealm Studios' critically-acclaimed, super-powered fighting game, will begin Friday, Oct. 27, with live Group A coverage at 10 p.m. ET on TBS.

The World Championship will feature 16 of the game's most accomplished players – 14 from the inaugural circuit of pro competition, including the Injustice 2 Championship Series, as well as two from the Last Chance Qualifier (Saturday, Oct. 21, at Noon on Twitch) – competing for $250,000 in prize money. Live TBS coverage will continue Friday, Nov. 3, at 10 p.m. with Group B, followed by the Championships at the same time on Friday, Nov. 10.

Live gameplay coverage for both Group A (Oct. 27) and Group B (Nov. 3) will begin at 6 p.m. on Twitch, which will also offer live streaming coverage of the entire tournament.
Live TBS Coverage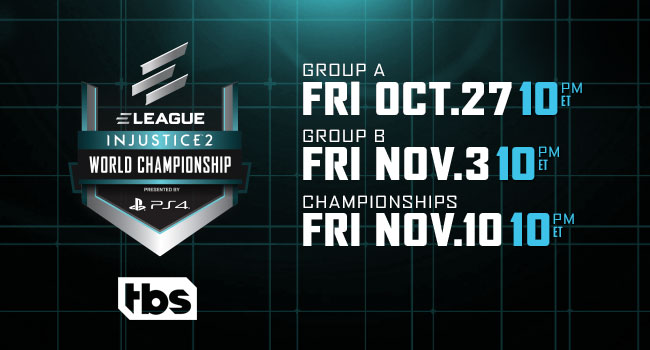 ELEAGUE Injustice 2 World Championship Commentators
ELEAGUE will present a rotation of fighting game experts and former pro players to cast each match and break down all the live action from ELEAGUE Arena. Richard Lewis will return as studio host, joined by ELEAGUE newcomers Joshua Gray (reporter), Bryant "Kitana Prime" Benzing (commentator) and David "Ultra David" Graham (commentator). ELEAGUE will also bring back popular casters Stephen "Sajam" Lyon, Steve "Tasty Steve" Scott, Reepal "Rip" Parbhoo and Zhi "Zhieeep" Liang Chew from the ELEAGUE Street Fighter V Invitational.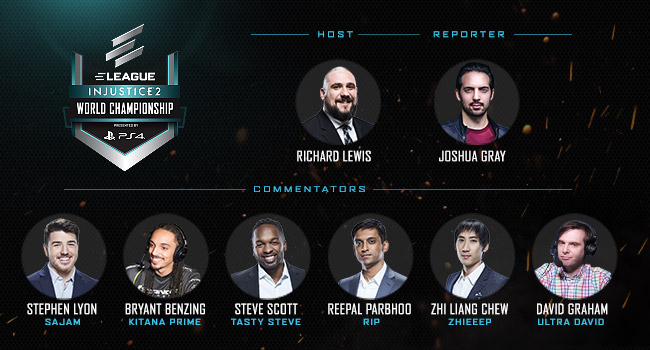 -30-
Media Contacts:
Jake Moskowitz, Turner Sports, at (404) 575-6765 or jake.moskowitz@turner.com
Mike Scanlan, IMG, at (386) 843-0188 or mike.scanlan@img.com
Kehau Rodenhurst, Warner Bros. Interactive Entertainment, at (818) 977-3340 or kehau.rodenhurst@warnerbros.com
Visit the Turner Sports online press room for additional press materials

  Email: turnersportspr@turner.com
  Twitter: @TurnerSportsPR
  Facebook: ELEAGUE TV