Pressroom
TNT's Inside the NBA Meets Saturday Night Live During Special Appearance from New York on Thursday, March 1
Tuesday, February 27, 2018
Charles Barkley, Shaquille O'Neal, Kenny Smith & Ernie Johnson to Provide Segments from Studio 8H at Rockefeller Plaza Following 76ers/Cavaliers & Timberwolves/Trail Blazers
The NBA on TNT will feature a special Inside the NBA presented by Kia on Thursday, March 1, with the award-winning studio show – Ernie Johnson, Shaquille O'Neal, Kenny Smith and Charles Barkley – joining the cast of Saturday Night Live for a special appearance from the show's iconic Studio 8H at Rockefeller Plaza. Later in the week, TNT's Barkley will serve as host of SNL for the fourth time.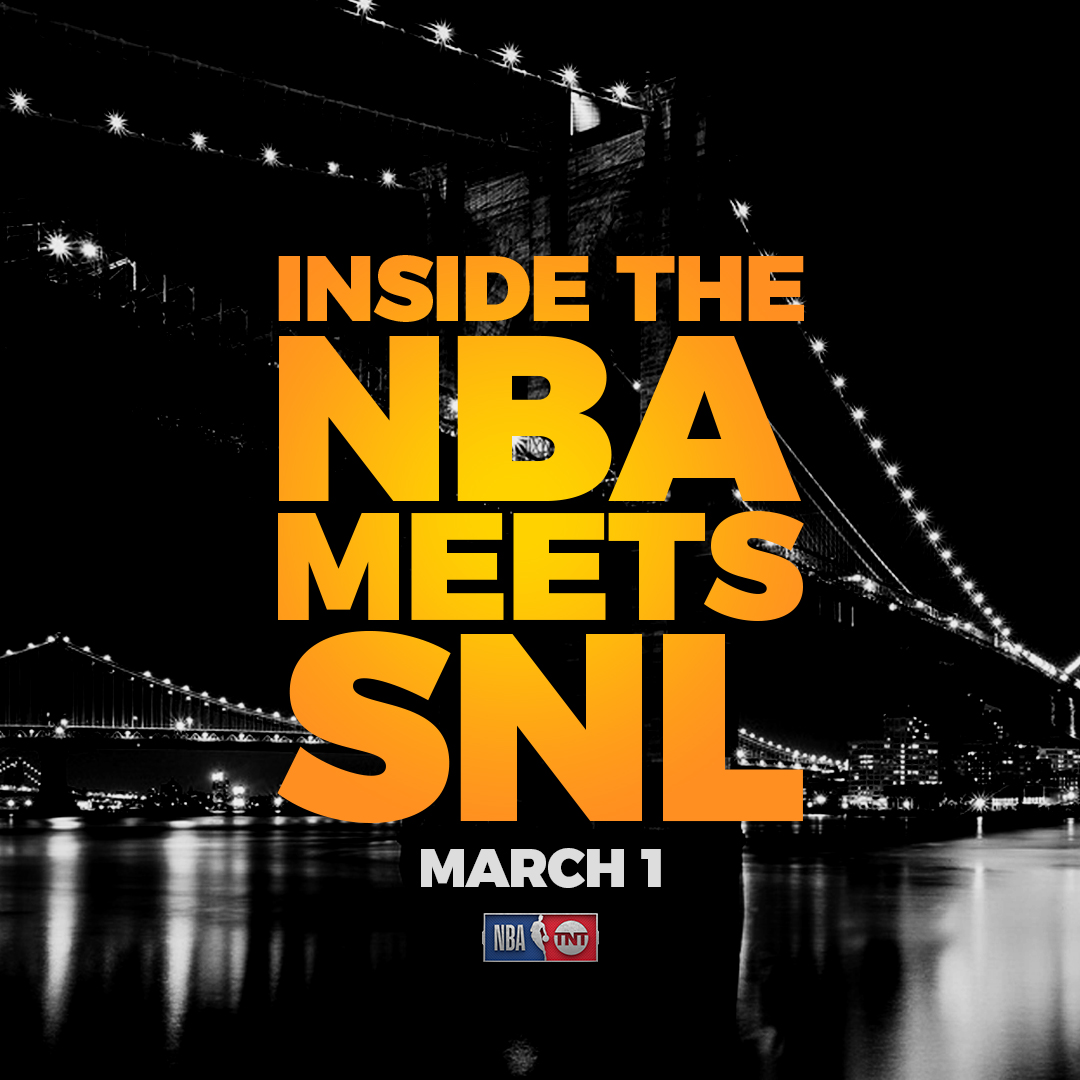 Thursday's live NBA on TNT game coverage will feature the Cleveland Cavaliers and LeBron James hosting the Philadelphia 76ers and Joel Embiid at 8 p.m. ET, followed by the Minnesota Timberwolves and Karl-Anthony Towns visiting the Portland Trail Blazers and Damian Lillard at 10:30 p.m.
Marv Albert, Chris Webber and reporter Kristen Ledlow will be on the call from Philadelphia, while Kevin Harlan, Reggie Miller and Allie LaForce will be in Portland. Casey Stern, Candace Parker and Isiah Thomas will provide studio coverage throughout the night from Atlanta.
The Cavaliers/76ers telecast will be offered live in immersive virtual reality through the NBA on TNT VR app powered by Intel® True VR, available for Samsung Gear VR and Google Daydream headsets.
The network's live game schedule and telecast notes follow.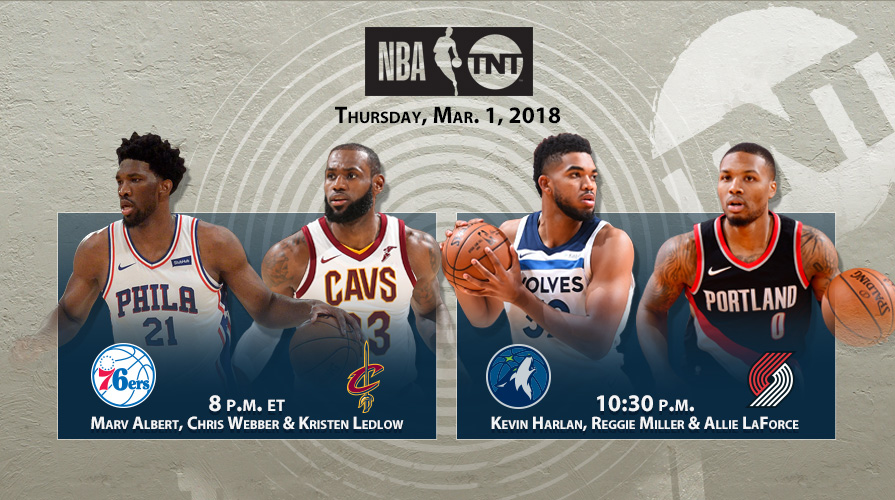 Tuesday, Feb. 27
8 p.m. ET - Players Only Pregame Show presented by Autotrader
Chris Webber, Isiah Thomas, Baron Davis & Amar'e Stoudemire
10:30 p.m. LA Clippers vs. Denver Nuggets
Greg Anthony, Kevin McHale, Rip Hamilton & Dennis Scott
Thursday, Mar. 1
8 p.m. ET - TNT NBA Tip-Off presented by Autotrader
Casey Stern, Candace Parker and Isiah Thomas
8 p.m. – Cleveland Cavaliers vs. Philadelphia 76ers
Marv Albert, Chris Webber & Kristen Ledlow
10:30 p.m. – Minnesota Timberwolves vs. Portland Trail Blazers
Kevin Harlan, Reggie Miller & Allie LaForce
Postgame - Inside the NBA presented by KIA
Johnson, Barkley, Smith & O'Neal from New York City
Stern, Parker & Thomas from Atlanta
Dre Days
Golden State's Andre Iguodala stars in the weekly episodic franchise throughout Players Only coverage on Tuesdays, taking fans on a variety of experiences and adventures during off days in NBA cities. Iguodala will invite teammates and local friends to join him as he documents his experiences from the unique perspective of a current NBA player on the road. Segments will air on TNT's coverage and social media for nine weeks.
Note
Live streaming coverage of all NBA on TNT games is available via http://www.tntdrama.com/watchtnt and the Watch TNT app.  Fans are able to access the games whenever and wherever they desire by logging in with the user name and password provided by their TV service provider.
-30-